Last updated on September 18, 2023
Alibaba Group Holding Ltd saw a dip of more than 4% in its stock value in Hong Kong on Monday.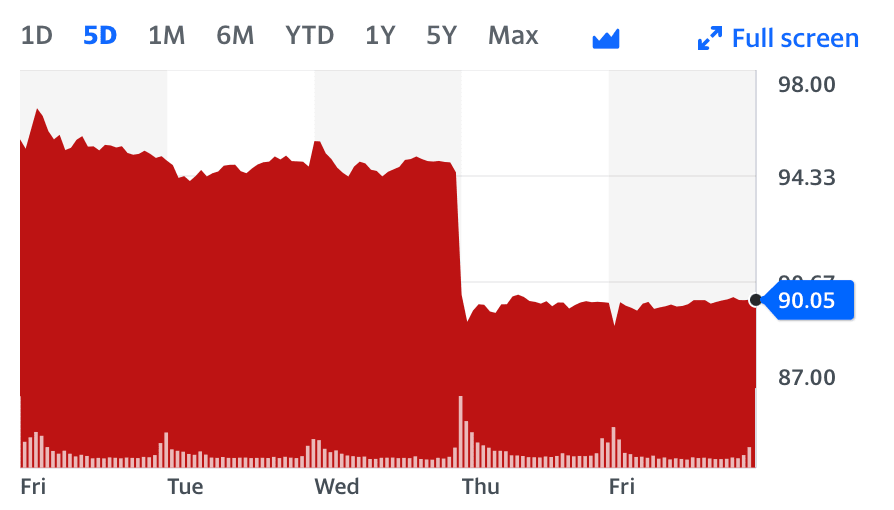 The decline came on the heels of the abrupt resignation of ex-group CEO Daniel Zhang from his cloud computing role, raising concerns about the unit's impending spin-off and potential internal discord.
Eddie Wu, the newly appointed group CEO, will also take on the role of acting CEO and chairman of the cloud unit.
This development comes at a time when the unit faces challenges related to sluggish sales growth just ahead of its scheduled initial public offering (IPO) set for next year.
Morningstar analyst Chelsey Tam expressed mixed sentiments, stating, "We think this latest change was not planned back in June, and there are concerns of disagreements among Alibaba's partners."
Back in June, Alibaba had announced that Zhang would step down from his group CEO position to focus solely on the cloud unit, which is the company's second-largest revenue generator.
The Cloud Intelligence Group, previously valued between $41 billion and $60 billion earlier this year, is among the five units that Alibaba is planning to spin off in its largest restructuring effort in 24 years.
The company remains committed to its plan to spin off the cloud unit, though it has yet to appoint a new management team, with the completion of the process expected by May 2024.
Citi analyst Alicia Yap suggested that Zhang's departure could potentially affect Alibaba's stock until a successor is named, adding, "Investors may be concerned that the timing and process of AliCloud's spin-off may be affected."
Alibaba's share price experienced a decrease of up to 4.4% during trading, hitting HK$86.85 ($11.08), the lowest level since August 23.
Cloud as Key Revenue Source
The announcement of Zhang's departure from the cloud unit was made via a staff letter on Sunday. Although no specific reasons were disclosed, it was revealed that Zhang plans to establish a technology fund.
On the same day, Zhang transferred the group CEO role to Eddie Wu and the chairmanship to co-founder Joseph Tsai, as part of the pre-scheduled transition.
The cloud unit is Alibaba's second-largest source of revenue, following domestic e-commerce. It includes DingTalk and the company's generative artificial intelligence model, Tongyi Qianwen.
DingTalk is reportedly set to become a separate entity, as previously reported by sources close to Alibaba.
While the cloud unit's revenue experienced a 2% decline in the first quarter of the year due to delayed projects and other factors, analysts estimate that it maintains a 34% market share in China, making it the country's largest cloud provider, ahead of competitors like Huawei Technologies, Tencent Holdings, and Baidu.
Zhang, who succeeded co-founder Jack Ma as group CEO in 2015 and chairman in 2019, took charge of the cloud unit in December 2022 following a significant outage described as the unit's "longest major-scale failure" in over a decade.
In June, when Zhang's transition to focusing solely on the cloud unit was announced, he emphasized the need for a clear separation between the board and management as the unit pursued a spin-off.
He stated that it would be "inappropriate" for him to continue in both group and unit roles.
Morningstar's Chelsey Tam expressed concerns about Wu's appointment as acting cloud CEO potentially raising governance issues and negating the advantages of having different CEOs, saying, "Alibaba Cloud's potential customers may worry about the sharing of their data with Alibaba."
Nevertheless, Wu taking the helm and Zhang's departure could signify a turning point for the company, which has faced intense regulatory scrutiny during Zhang's tenure.
Vey-Sern Ling, Managing Director at Union Bancaire Privee, commented, "His exit will allow the cloud business to start from a 'clean slate.'"
Wu, an original Alibaba co-founder, has held various roles within the company since 1999 and now assumes the role of group CEO, chairman of Taobao and Tmall Group, and director of several Alibaba entities.
[Note: Exchange rate used is $1 = 7.8378 Hong Kong dollars]
(Source: Reuters)
More from thoughts.money