Last updated on September 22, 2023
About Bitgamo: Established in 2020 by a renowned financial group, Bitgamo is a cryptocurrency exchange on a mission to bring the benefits of crypto to countries facing challenges in purchasing or owning digital currencies.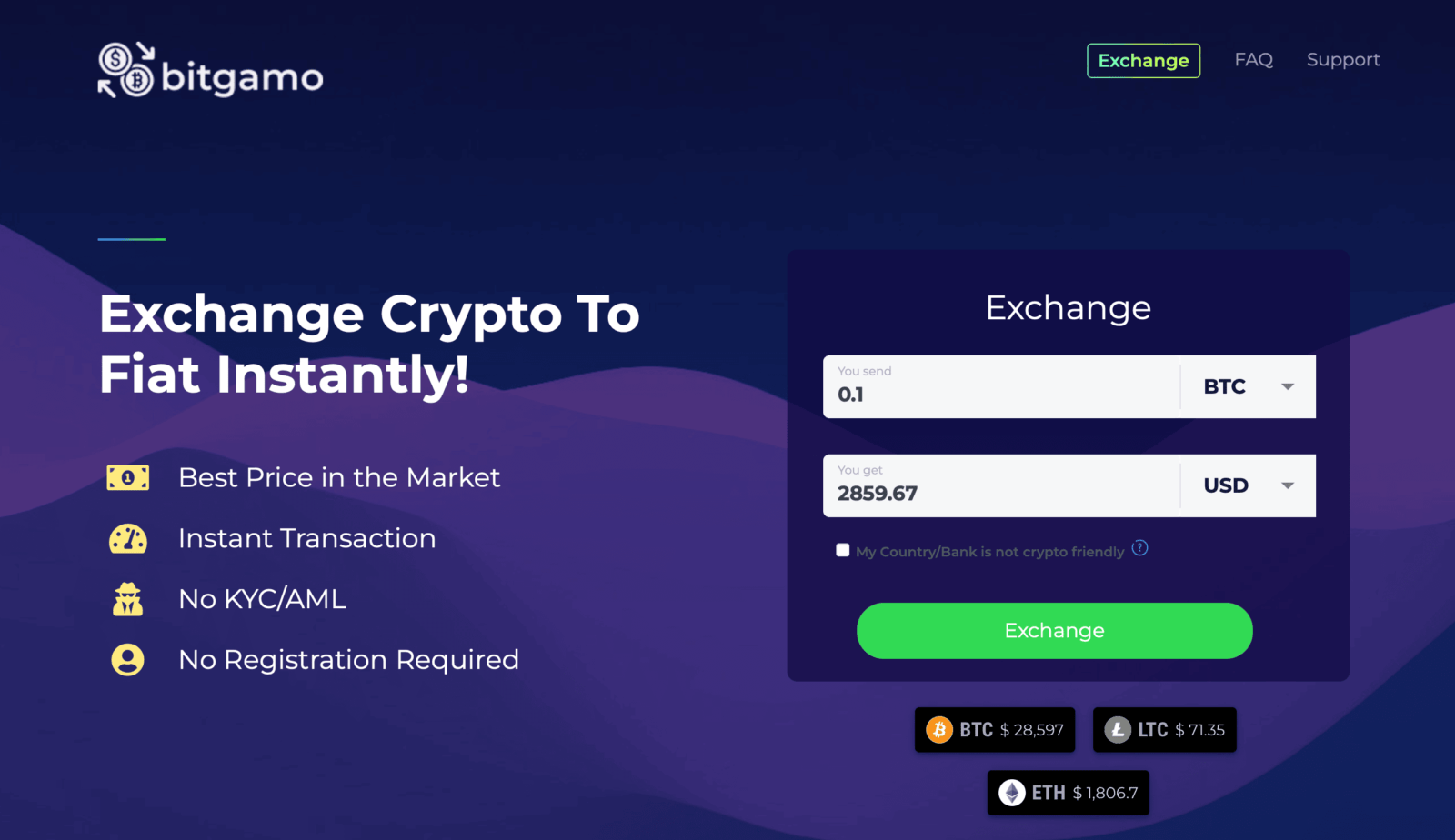 By utilizing a network of multiple third-party platforms, Bitgamo ensures exchange rates that can exceed market prices by up to 10%.
Bitgamo is making waves in the global crypto market by introducing a groundbreaking approach: offering crypto to fiat exchange without any KYC (Know Your Customer) requirements or the need for account registration.
As the pioneer of this innovative feature, Bitgamo aims to boost crypto adoption in countries that have been slower to embrace digital currencies. Adding to the excitement, this rapidly growing crypto exchange provides exchange rates that surpass the current market norms.
Notable Bitgamo Features:
• Industry-leading exchange rates
• No mandatory account registration
• Elimination of document submission (passport, identity proofs, proof of funds)
• Instantaneous transactions
Bitgamo achieves notably higher exchange rates by leveraging multiple third-party channels to distribute cryptocurrencies, especially to regions like the Middle East and other places where acquiring or investing in cryptocurrencies is particularly challenging.
Operating as a hassle-free crypto exchanger, Bitgamo ensures the fastest, safest, and most private method for converting crypto (like BTC) to USD. Users can seamlessly and instantly complete transactions with just a single click.
Ensuring customer privacy is a top priority for Bitgamo. Unlike similar services, the company refrains from employing third-party web analytics, customer service tools, marketing automation platforms, and email marketing campaigns.
As a staunch advocate of decentralization, Bitgamo adheres to rigorous standards to safeguard user data and maintain utmost privacy.
(Source: NewsDirect)
⬇️ More from thoughts.money ⬇️