Last updated on October 4, 2023

Klaviyo goes public soon. It has submitted its initial S1 statement today, (you can read the S-1 here) marking the first such filing from a software company in nearly two years. An S-1 is a document that companies submit to the Securities and Exchange Commission (SEC) as a precursor to listing their shares on stock exchanges like NYSE or NASDAQ.
This comprehensive document provides a wealth of information about the company, including an overview, current financials, business risk factors, highlights of ownership distribution, and more. The purpose behind this detailed information is to assist both institutional and retail investors in making well-informed decisions about investing.
| Metric | 2021 | 2022 |
| --- | --- | --- |
| 💰 Revenue | $290M | $580M |
| 💼 Valuation | $9.5B | – |
| 📈 Growth Rate | – | 55% |
| 💵 Funding | – | $778.5M |
Klaviyo's Key Info
To simplify the extensive data, the upcoming sections will extract relevant financial details and compare them against existing cloud-based businesses. In terms of timeline, companies usually commence their roadshow around three weeks after the initial S-1 filing.
This roadshow introduces an updated S-1 with a price range. Following the roadshow launch, there is typically an additional two-week period before the company's stock begins trading. Thus, the process spans approximately five weeks before retail investors can participate in purchasing the stock.
👉 Explore More: Klaviyo Jumps 9% on Day 1 of Going Public
☞ What Klaviyo does
Klaviyo makes it easy for businesses to grow their revenue. They help businesses use their own data to create personalized experiences for customers online. Their platform uses smart technology to send the right messages at the right times through email, SMS, and push notifications.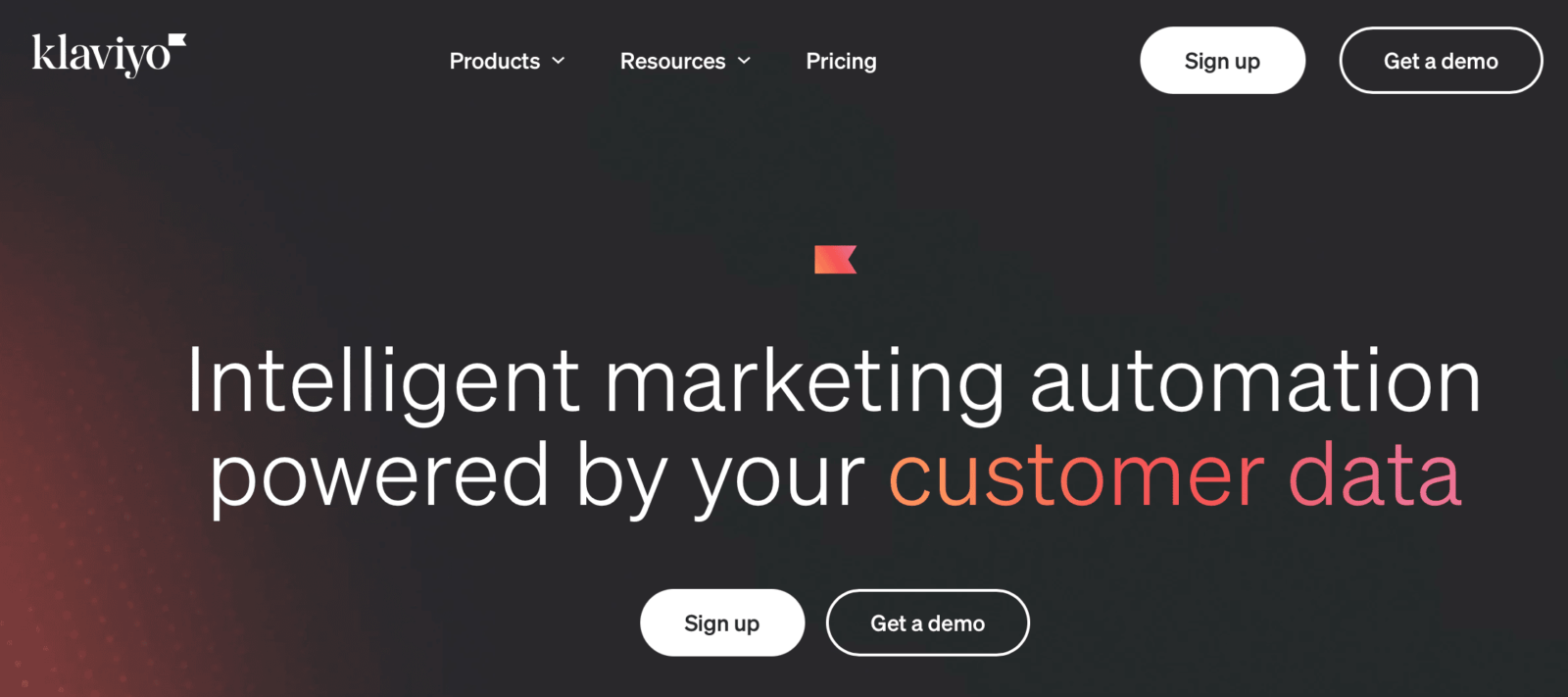 This helps businesses measure performance, predict outcomes, and run effective campaigns. They also offer tools to gather product reviews and manage customer data. Klaviyo's focus is on eCommerce marketing, but they believe their software can work well in many areas.
☞ Klaviyo's Revenue Growth
By the close of 2022, Klaviyo achieved $580 million in annual recurring revenue (ARR), marking a 55% increase from its $375 million ARR at the close of 2021. The company's valuation stood at $9.5 billion, translating to a 16x multiple on anticipated revenue. Klaviyo caters to roughly 100,000 business clients.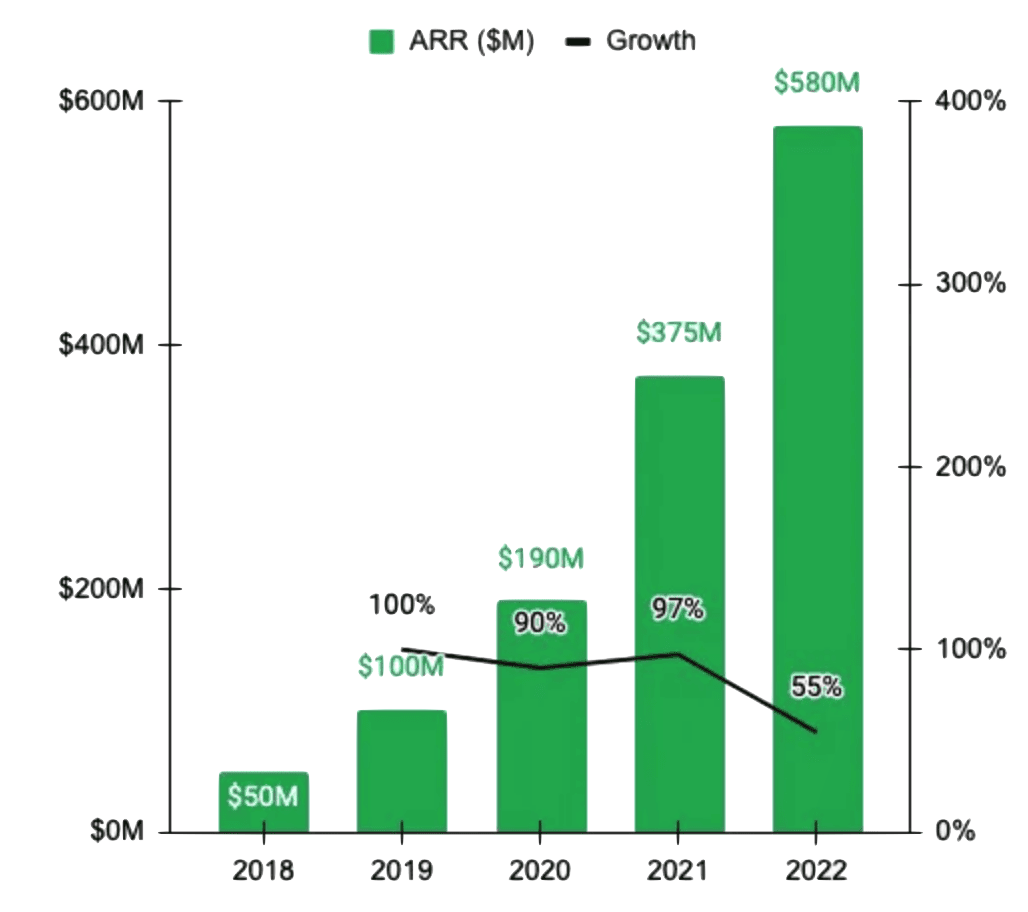 While the pace of Klaviyo's expansion has moderated from an almost 100% year-on-year growth to 55% in 2022, this trajectory mirrors that of its key partner, Shopify. To address this shift, Klaviyo adopted strategies such as diversifying its product lineup by introducing a customer data platform (CDP), stepping into text-based communications (contributing around 10% of revenue), and enhancing its email marketing and in-app chat functionalities.
In a comparative context, consider Braze, which recorded $394 million in next twelve months (NTM) revenue, with a valuation of $3 billion (a 7.7x multiple), or HubSpot, boasting $2 billion in NTM revenue and a valuation of $23.9 billion (an 11.9x multiple).
☞ Klaviyo's Product Offering
Established in 2012, Klaviyo initially emerged as an all-encompassing analytics and events tracking solution. It integrated Customer Relationship Management (CRM) and marketing automation, seamlessly populating detailed user profiles through a JavaScript snippet known as "klaviyo.js" embedded on websites.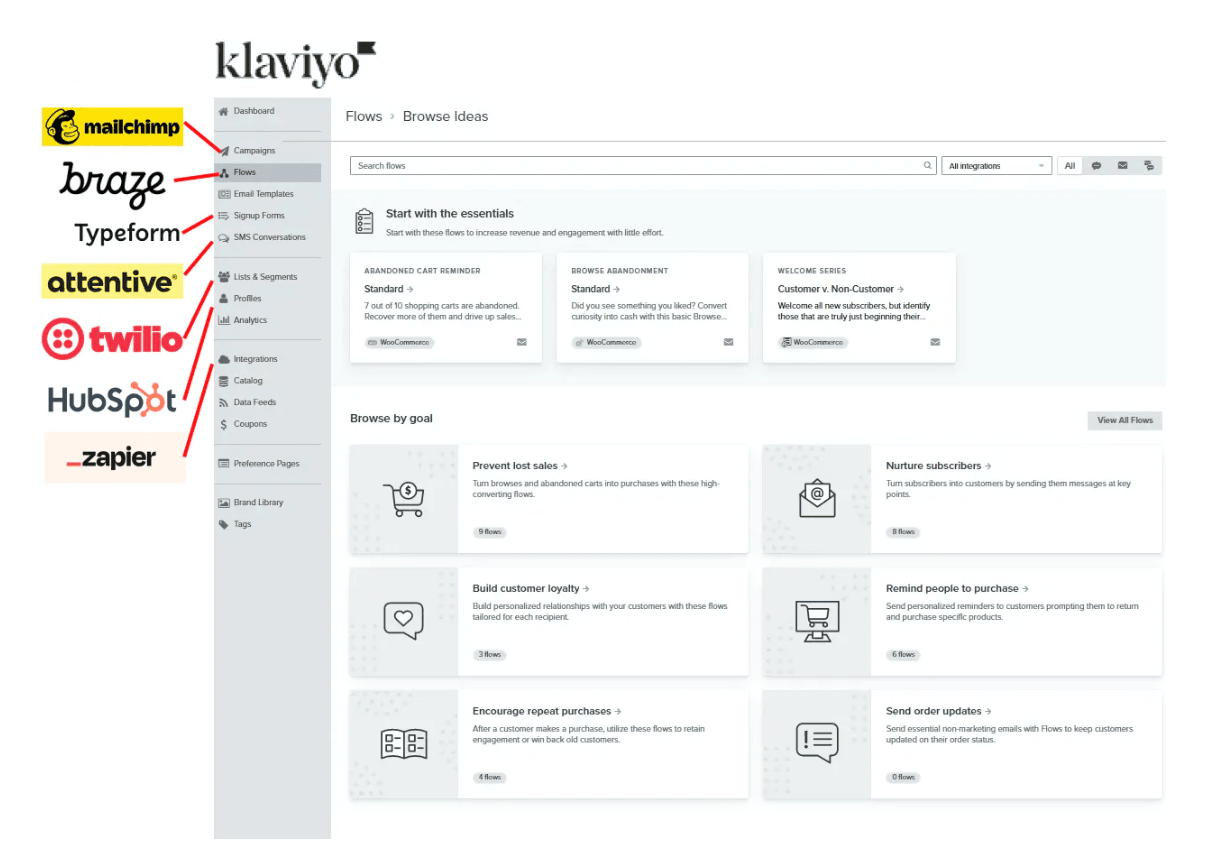 Amid the ascent of Direct-to-Consumer (D2C) and subscription-oriented commerce, Klaviyo assumed a pivotal role in this landscape. It extended a critical lifeline to emerging merchants, furnishing distribution avenues and a means to infuse Monthly Recurring Revenue (MRR) into their operations.
During this period, Klaviyo notably partnered with Shopify's app store, a move that proved instrumental as Shopify's revenue surged almost tenfold from 2012 to 2015, leaping from $23 million to $205 million.
In the present day, Klaviyo's platform encompasses a spectrum of features such as:
This comprehensive suite empowers businesses to effectively connect with their customer base and drive sales.
With user-friendliness as a core tenet, these services are designed to seamlessly integrate with various e-commerce platforms and other software tools. This strategic design minimizes technical obstacles, granting businesses access to advanced marketing techniques without complexity.
☞ Klaviyo's Business Model
Klaviyo operates on a Software as a Service (SaaS) subscription model. It furnishes a cloud-based platform tailored for businesses to oversee various aspects like email marketing, SMS marketing, in-app notifications, and, more recently, customer data management through a "Customer Data Platform" (CDP).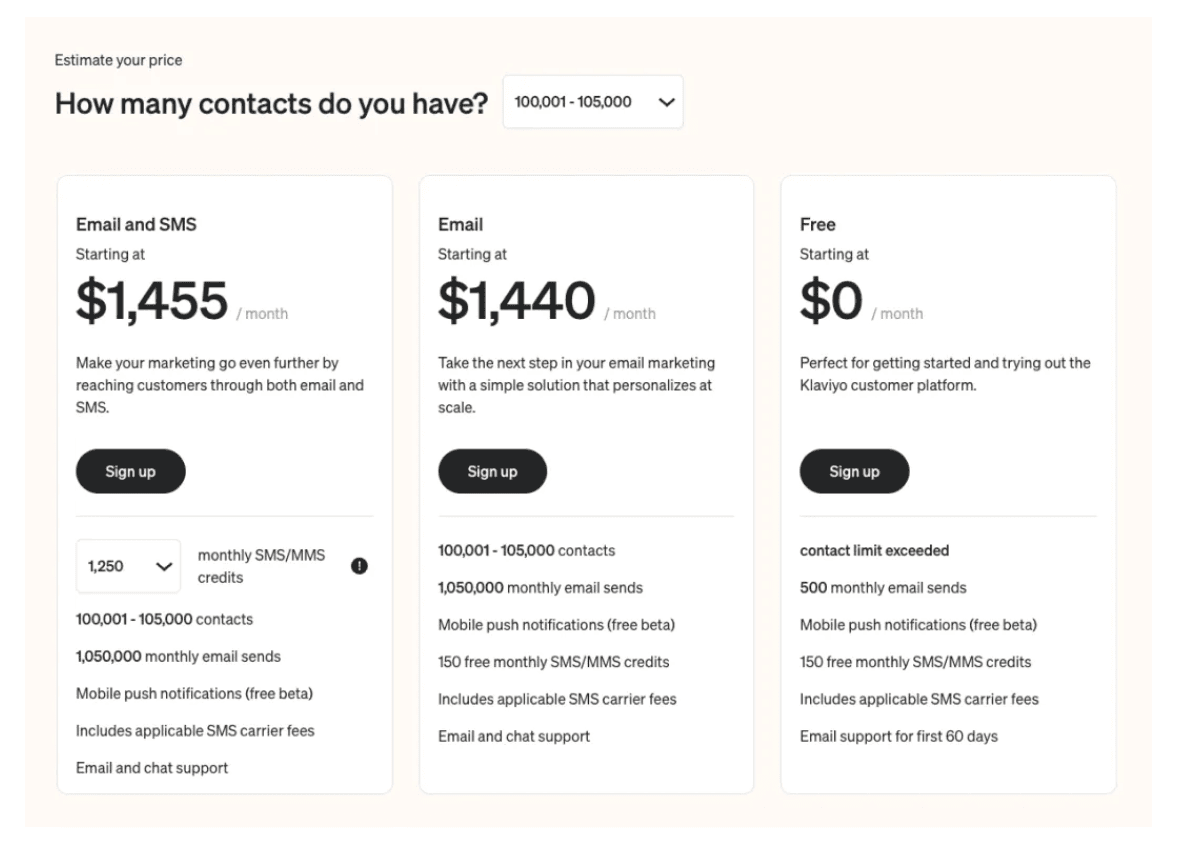 The crux of Klaviyo's offerings revolves around e-commerce businesses. It aids them in collecting and dissecting customer data, orchestrating automated targeted email and SMS campaigns, and efficiently handling customer communication on a large scale. The platform seamlessly integrates with several e-commerce platforms, including Shopify, Magento, and WooCommerce.
Klaviyo's primary revenue stream stems from subscription charges for its platform. The pricing structure adapts based on a business's contact count, rendering it suitable for ventures of varying sizes, ranging from fledgling startups to expansive corporations. As contacts increase, so does the corresponding fee for utilizing Klaviyo's services.
For businesses harboring up to 250 contacts, Klaviyo extends a free tier. This allows them to dispatch up to 500 emails. Beyond this threshold, businesses need to subscribe to one of Klaviyo's paid plans.
☞ Klaviyo's Competitors
Email:
Klaviyo directly competes with email and customer engagement platforms like Braze, Iterable, and HubSpot, as well as standalone email marketing tools like Mailchimp and ConvertKit.
What set Klaviyo apart early on was its advanced automation and segmentation features, which were not easily accessible to the average marketer without costly enterprise software.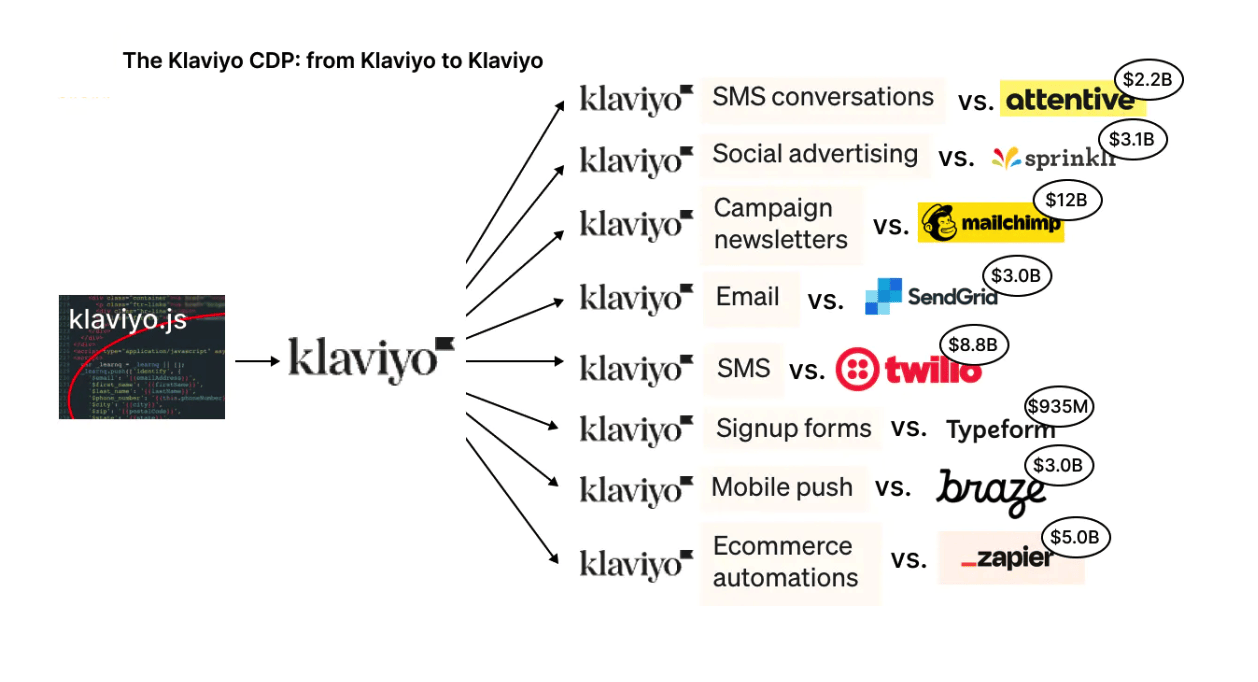 Customer Data Platforms (CDPs):
In response to rivals such as Twilio Segment and mParticle, which became central data hubs during the 2010s, Klaviyo has introduced its own CDP.
The rise of universal CDPs like Segment posed a challenge to Klaviyo's position by reducing switching barriers and intensifying competition. This impacted Klaviyo's rivalry with tools such as Iterable, Braze, Intercom, Customer.io, and established players like HubSpot and Mailchimp.
Klaviyo's CDP introduction aims to offer customers a comprehensive experience, retaining all customer data within its ecosystem for improved retention and growth possibilities.
SMS:
As SMS gained traction as marketers' favored inbox, boasting a 45% response rate compared to the usual 6% for email, companies like Attentive ($200 million ARR in 2022) and Postscript ($39 million ARR in 2022) prospered by aiding merchants in managing the surge of texts and devising automated, contextual responses to customer queries.
In response, Klaviyo launched its SMS messaging tool in 2019. Presently, SMS constitutes approximately 10% of Klaviyo's revenue and continues to grow.
☞ Klaviyo's TAM
Klaviyo's substantial potential hinges on its role as Shopify's (NYSE: SHOP, $5.6 billion) favored email provider in a landscape where e-commerce, with over $1 trillion in sales, accounts for just 15% of the entire commerce sector in the United States.
Even before the COVID pandemic, e-commerce exhibited growth, but the crisis rapidly propelled online shopping into a routine aspect of daily life.
From approximately $570 billion in 2019, e-commerce sales surged to $815 billion in 2020. This shift was driven by consumers embracing online shopping for its convenience and safety advantages. Consequently, the demand for e-commerce marketing tools, such as Klaviyo, surged, enabling merchants to effectively locate and engage their customer base.
Contrastingly, Shopify achieved $5.6 billion in total revenue during 2022, serving over 2 million merchants. Despite a 2022 growth slowdown due to broader economic deceleration and particularly among Small and Medium-sized Businesses (SMBs), Shopify's expansion persists. Remarkably, Shopify constitutes just about 0.5% of the comprehensive e-commerce market.
By embedding itself as Shopify's recommended email partner while remaining an independent third party, Klaviyo stands to benefit from the continuous advancement of Shopify's model, as well as the broader growth of e-commerce.
☞ Klaviyo's Risks
Shopify Dependency: Klaviyo's growth is closely linked to Shopify's expansion. A majority of their extensive customer base, exceeding 100,000, comprises merchants on the Shopify platform. While the partnership with Shopify has significantly fueled Klaviyo's growth, it also exposes the company to potential risks stemming from any deceleration in Shopify's growth trajectory or alterations in Shopify's policies.
Shifting Customer Focus: In the lead-up to their IPO in 2023, Klaviyo has been recalibrating its outbound sales strategy by targeting larger retailers operating on their independent e-commerce systems. This strategic shift contrasts with their previous emphasis on smaller Shopify retailers. This transition is partly influenced by the challenges faced by small and medium-sized business (SMB) e-commerce post-COVID, which may introduce uncertainties as Klaviyo navigates this transition.

☞ Should You Buy Klaviyo's Shares?
| Pros | Cons |
| --- | --- |
| High Growth Potential: Klaviyo has exhibited rapid growth, especially through its partnership with Shopify, offering substantial growth potential. | Dependency on Shopify: The majority of Klaviyo's customer base is tied to Shopify, which exposes it to risks related to Shopify's growth trends and policy changes. |
| Strategic Diversification: Klaviyo is diversifying its customer focus to target larger retailers, potentially mitigating reliance on smaller Shopify merchants. | Market Shift Uncertainties: Klaviyo's shift towards larger retailers might encounter uncertainties due to evolving post-COVID challenges in SMB e-commerce. |
| Comprehensive Platform: Klaviyo offers a comprehensive platform, including email, SMS, and CDP services, catering to various needs of e-commerce businesses. | Market Competition: The e-commerce marketing landscape is highly competitive, with other players vying for the same customer base, potentially affecting Klaviyo's market share. |
| High Engagement Services: Klaviyo's automation and segmentation features enhance engagement, offering advanced tools that appeal to marketers for effective campaigns. | Economic Sensitivity: Klaviyo's growth might be influenced by economic conditions, particularly among SMBs, impacting their willingness to invest in marketing tools. |
| Independent Third-Party: Klaviyo's positioning as a recommended partner while remaining independent from Shopify allows it to benefit from Shopify's growth without full reliance. | IPO Uncertainties: The outcome of Klaviyo's IPO and its subsequent performance in the market introduces inherent uncertainties for potential investors. |
⬇️ More from thoughts.money ⬇️