Cybersecurity giant Zscaler (ZS) has just revealed a stellar fiscal fourth quarter, surpassing Wall Street's forecasts in earnings, revenue, and billings.
| Highlights | What happened? |
| --- | --- |
| Earnings Beat | 📈 Zscaler reported earnings that exceeded expectations, indicating strong financial performance. |
| Revenue Growth | 📈 The company experienced substantial revenue growth, a positive sign for its financial health. |
| Billings Surge | 📈 Billings increased significantly, surpassing estimates, suggesting strong demand for Zscaler's services. |
| Fiscal 2024 Outlook | 📅 Zscaler's outlook for fiscal 2024 forecasts higher earnings and revenue, signaling confidence in future growth. |
| Earnings Forecast | 💼 The company expects higher earnings per share, reflecting optimism about its financial prospects. |
| Revenue Expectations | 🤑 Zscaler anticipates increased revenue, aligning with positive expectations for its financial performance in the coming year. |
| Market Response | 📉📈 ZS stock initially rose but later dipped, reflecting market volatility and uncertainty despite positive results. |
| Stock Performance | 📊 ZS stock has shown resilience, climbing above the 50-day moving average, and maintaining a strong Relative Strength Rating. |
| Relative Strength Rating | 📈 Zscaler's stock is performing well relative to peers, with a high Relative Strength Rating, indicating strength in the market. |
| Cloud-Based Services | ☁️🔒 Zscaler provides cloud-based cybersecurity services, a growing sector in high demand due to increasing cybersecurity threats. |
| Cybersecurity Offerings | 🌐🛡️ Zscaler's offerings, such as web security gateways and ZPA cloud service, position it as a strong competitor in the cybersecurity industry. |
| Industry Rivals | 🤝🏁 Competitors like Palo Alto Networks and Microsoft are challenging Zscaler in the cybersecurity market. |
Even more impressive, the company's fiscal 2024 outlook has exceeded expectations, turning heads in the market. While ZS stock initially surged on this news, it later experienced a slight dip.
Leading up to this financial report, Zscaler had already demonstrated its strength by achieving a remarkable 41% increase in stock value throughout 2023.
For the fourth quarter, Zscaler reported adjusted earnings of 64 cents per share, marking an impressive 156% growth compared to the prior year's 25 cents. The July quarter also saw revenue climb by 43%, reaching $455 million.
Analysts had anticipated earnings of 49 cents per share on revenue of $430.4 million. Notably, billings for the quarter soared to $719.3 million, well above the expected $660 million.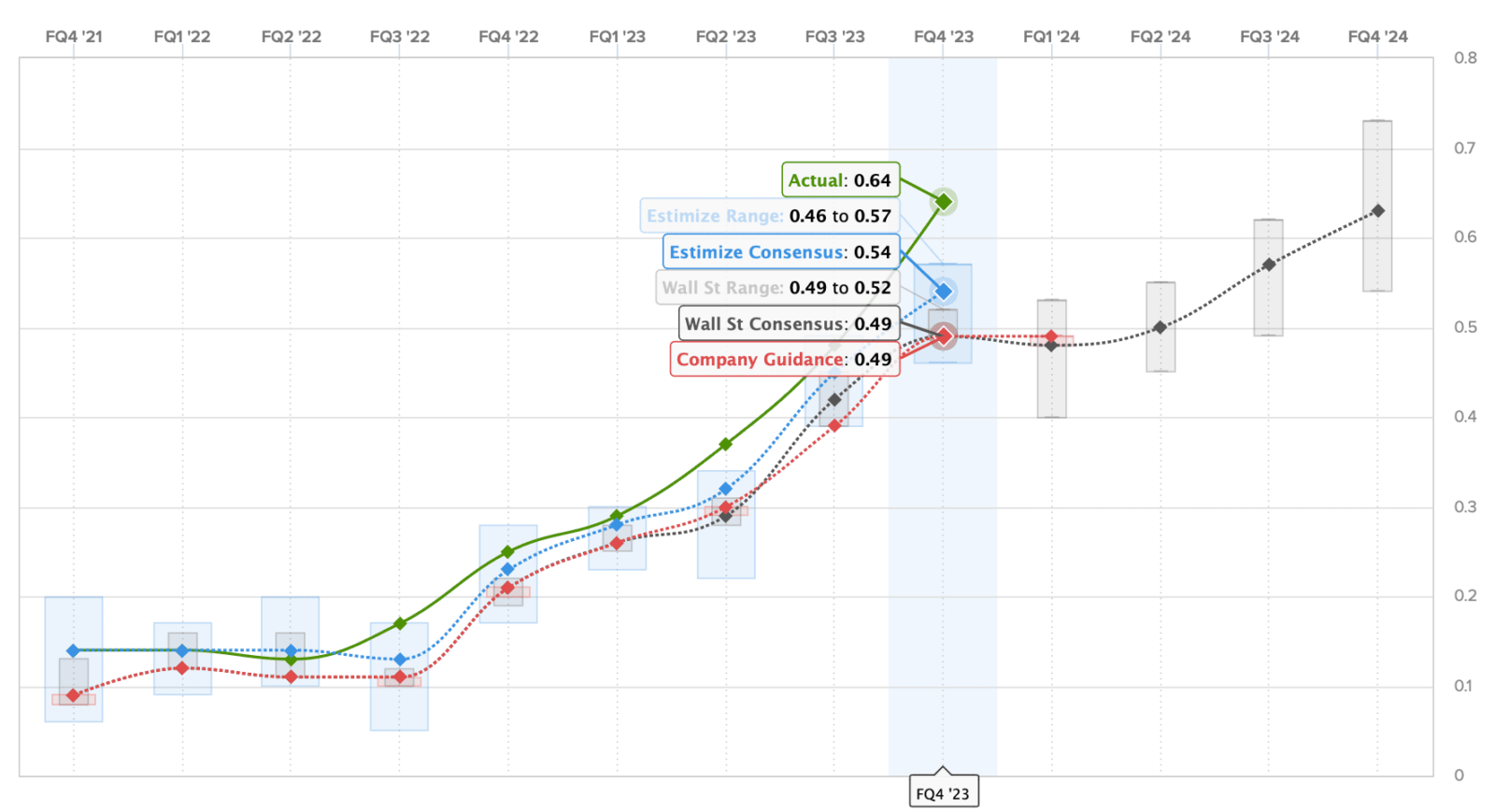 Looking forward to fiscal 2024, commencing with the October quarter, Zscaler has set an earnings forecast ranging from $2.20 to $2.25 per share, surpassing the expected $2.11.
Revenue expectations for the fiscal year fall within a range of $2.05 billion to $2.065 billion, slightly exceeding analyst projections of $2.05 billion.
RBC Capital analyst Matthew Hedberg praised Zscaler's performance, stating that they "delivered a strong finish to their fiscal year with a beat across the board as fiscal 2024 guidance is above consensus."
While ZS stock initially experienced growth following the earnings report, extended trading saw a slight decline of 1.2% to $160.73.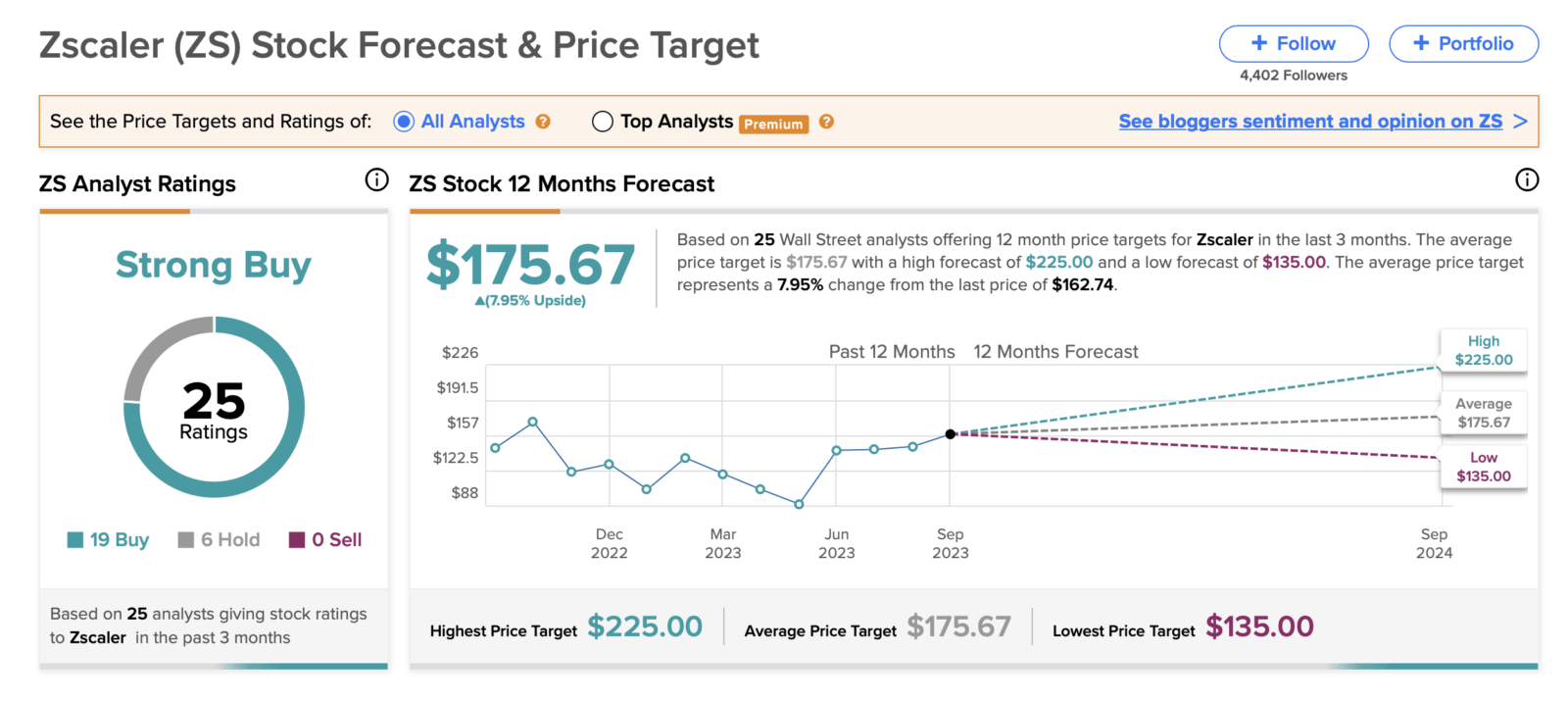 Before the report, ZS shares had managed to regain strength above the 50-day moving average. Additionally, the stock boasted an impressive Relative Strength Rating of 86 out of a possible 99, according to IBD Stock Checkup.
Zscaler, known for its cloud-based cybersecurity services, operates through an extensive network of 150 data centers worldwide.
The company's web security gateways play a pivotal role in examining customer data traffic for malware, while its Zscaler Private Access (ZPA) cloud service has effectively replaced traditional virtual private networks (VPNs) in supporting remote work.
Notable rivals in this industry include Palo Alto Networks (PANW) and Microsoft (MSFT).
(Source: IBD)
⬇️ More from thoughts.money ⬇️