Last updated on August 9, 2023
Online trading is booming. Traders and investors around the world are constantly searching for the best trading apps. If you want to find an investment app to trade Forex, Stocks, Crypto, and more in 2023, then you're at the right place. Keep reading.
We — at thoughts.money — regularly update our list of the best stock trading apps (that you can download for free) and put the financial world in the palm of your hands. Let's get started.
---
⓵ What Are Online Trading Apps?
If you've ever bought a share of your favorite company before, then chances are you've already used a stock trading app. A stock trading app is any application that allows traders and investors to invest (or speculate) in financial assets like Stocks.
With an investment app you can trade not only Stocks but Forex, Indices, Commodities, Options, Futures, Bonds, ETFs, and Cryptocurrencies as well. Every brokerage firm in the world has at least one trading app available for all their clients.
---
⓶ Are Online Trading Apps Safe?
Before opening a trading account with any broker and searching for the best stock trading app in 2023, you need to make sure that you are dealing with a legitimate broker. Thoughts.money only recommends regulated and licensed stockbrokers.
We test 100s of trading apps and only suggest the ones that are easy to use, secure, and come with a plethora of trading tools and helpful 24/5 customer support so that you get your questions answered on time.
---
⓷ What Should You Look for in a Good Online Trading App?
Here are the key questions to ask when searching for the best app for stock trading:
Does it support your preferred currency?
How many assets does it offer?
Can you place limit orders?
Is after-hours trading available?
Are the spreads competitive?
How fast is the order execution?
Do you have access to round-the-clock support?
You should open an account and place trades only with trading apps that tick all the boxes. That will ensure an optimal trading experience.
---
⓸ Best Free Online Trading App for Stocks, Crypto, and more.
If you are looking for the best online stock trading app then make sure you try Oanda's easy-to-use app. Oanda is a trusted, regulated broker that accepts worldwide traders.
Since its inception in 1996 Oanda has grown into an international brokerage firm with offices around the globe including Asia, Europe, and North America.
Oanda allows clients to trade and invest in a large range of financial markets, through its intuitive trading app. Gain access to cutting-edge trading tools, competitive spreads, fast order execution, and 24/5 customer support.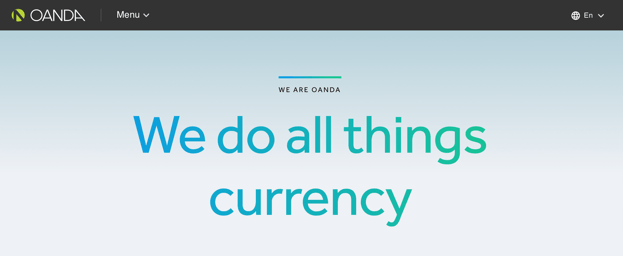 ---
⓹ Best Trading Apps for Beginners
If you are asking "What is the best stock trading app for beginners?" then AvaTrade should be on your radar. AvaTrade has been pioneering online trading for more than 15 years now.
More than 300,000 traders and investors around the world use AvaTrade's app to gain access to a secure trading environment for optimal online trading.
As an AvaTrade client you also have access to first-class support and an ever-expanding list of tradable assets including FX, Stocks, Crypto, and more.

---
⓺ Which Trading App Is Best for Experienced Traders?
Interactive Brokers (IBKR) is the best stock trading app for experienced traders and investors. IBKR is the number 1 choice for trading and investing pros.
IBKR is one of the oldest brokers and was established in 1977.
Its mission is to provide liquidity on better terms, better price, better speed, better diversity of global products, and better trading tools.
They have recently released their global trader app which is user friendly and comes with all the advanced tools that traders know and love.

❖ Best Stock Trading App for Options
The best mobile stock trading app for options comes from IC Markets. Their trading app makes online trading accessible to everyone around the world — beginners and seasoned pros as well.
With the IC Markets app, you can easily and securely trade the world markets anytime, anywhere. It offers access to strict regulation, ultra-tight spreads, fast order execution, advanced trading technology and 1,000+ tradable assets.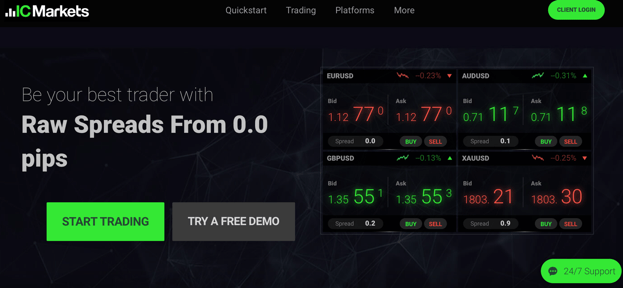 ❖ Best Low-Fee Bank Stock Trading App
This popular trading app comes from the Canadian broker Qtrade Direct Investing. Qtrade was founded in 1999 and is considered one of the top trading apps for long-term investors in Canada.
Qtrade focuses on helping people all over the world to invest with confidence. You can invest in several financial assets with tight spreads, smooth order execution with no delays and no requotes while having access to unparalleled customer support.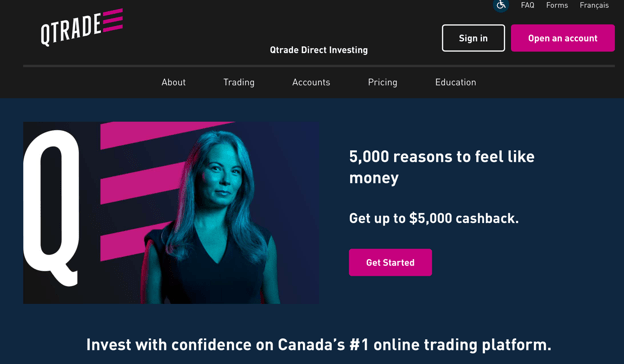 ❖ Best Investment App for Customer Support
eToro offers several trading apps that are ideal for traders who wish to gain access to social copy trading. eToro has been innovating and transforming the online trading world since 2007.
With eToro's trading app you can trade more than 3,000 tradable financial assets — from Stocks and Forex to ETFs and Crypto — while having access to superior trading conditions and an optimal trading environment for efficient online trading.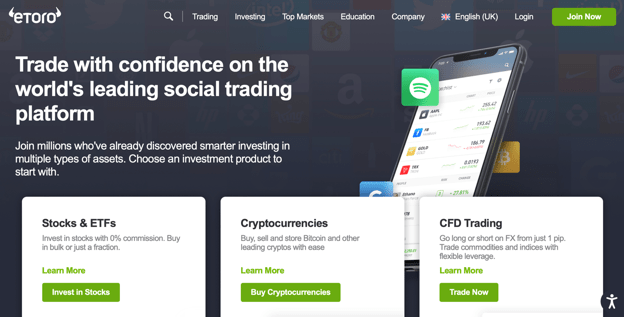 ❖ Best Free Online Trading App
There are plenty of solid trading apps in the market. FxPro is one of the best ones. The company was founded in 2006 and welcomes both retail and institutional clients from 170+ countries.
Trade with competitive spreads, large range of tradable instruments, easy-to-use technology, and friendly support.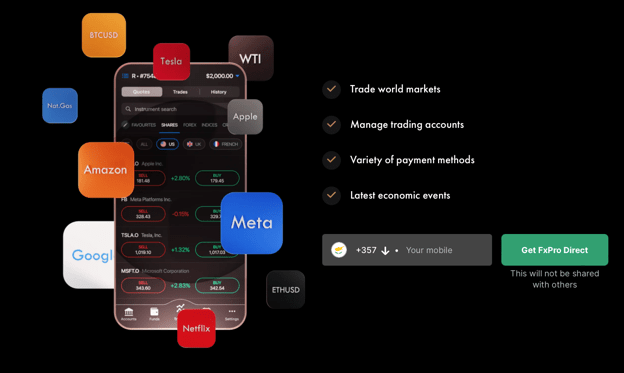 ---
⓻ Overall Best Stock Trading App
You can't go wrong with FXCM's trading app. FXCM is an award-winning brokerage firm that has been serving worldwide clients since 1999. Their mission is to enable traders and investors to trade global markets from the comfort of their home.
F XCM offers an intuitive and easy-to-use trading app as well as informative educational material and friendly round-the-clock customer support. Traders can start with just a $50 minimum deposit.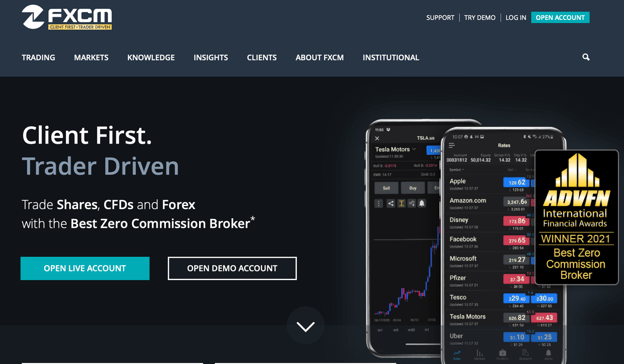 ---
⓼ Best Online Trading App for iPhone and Android
If you are a beginner, then you should open a free demo account with several brokers from our recommended list and see which one you like best.
If you are a seasoned pro, then you can go with an advanced trading app like IBKR. Beginner investors and traders usually prefer a more simplistic interface as the one offered by AvaTrade and Oanda.
---
⓽ Online Trading Apps FAQ
Find answers to the most popular questions on trading apps.
❖ What is the best trading app?
There are many trading apps that can meet your financial needs and goals. If you are a pro, you can go with IBKR. If you are a novice, you can go with a simpler trading platform like AvaTrade or Oanda. As you advance and grow as a trader, you can try other platforms too.
❖ What funding methods do trading apps accept?
Most trading apps accept:
Credit/Debit cards
Bank Transfers
eWallets (PayPal, Skrill, UnionPay, Neteller)
❖ Which trading mobile app has the best reviews?
So many decent options in this guide for you to choose from. Any trading app mentioned in this article has very good reviews compared to the rest of the competition.
❖ Which mobile app offers the best trading tools and investor research?
There are many trading apps that offer a solid range of trading tools, educational resources, and investor research tools. Choose the one you like best from our trading app list.
❖ How do I open a stock trading account?
Opening an account is straightforward. Just go to your chosen broker, click on "open an account", fill out your information, perform the KYC procedure, fund your account, and you are ready to trade.
❖ Which is the best trading app for experienced investors?
Many experienced investors prefer the IBKR app to place their trades as it offers very tight spreads, lightning-fast execution, and advanced trading tools.
---
Final thoughts
Online trading is a unique and exhilarating experience. To have an optimal trading environment you need a robust and easy-to-use trading app. Thoughts.money wants our readers to have access to objective and unbiased information so that you can make well-informed decisions.
---
More from thoughts.money