Google's parent company, Alphabet, reported its third-quarter earnings, surpassing revenue and earnings per share expectations.
However, the company's cloud business didn't perform as well as anticipated, hence Alphabet stock falls during pre-market trading.
In Q3, revenue, excluding traffic acquisition costs, reached $64.1 billion, exceeding the expected $63 billion.
This figure also marks an increase from the $57.3 billion generated in the same quarter the previous year. Adjusted earnings per share were reported at $1.55, higher than the anticipated $1.44 per share.
Yet, the cloud business underperformed Wall Street's estimates, with revenues totaling $8.41 billion for the quarter, slightly falling short of the expected $8.6 billion.
As a result, Alphabet's stock saw a decline of more than 6% following the earnings report.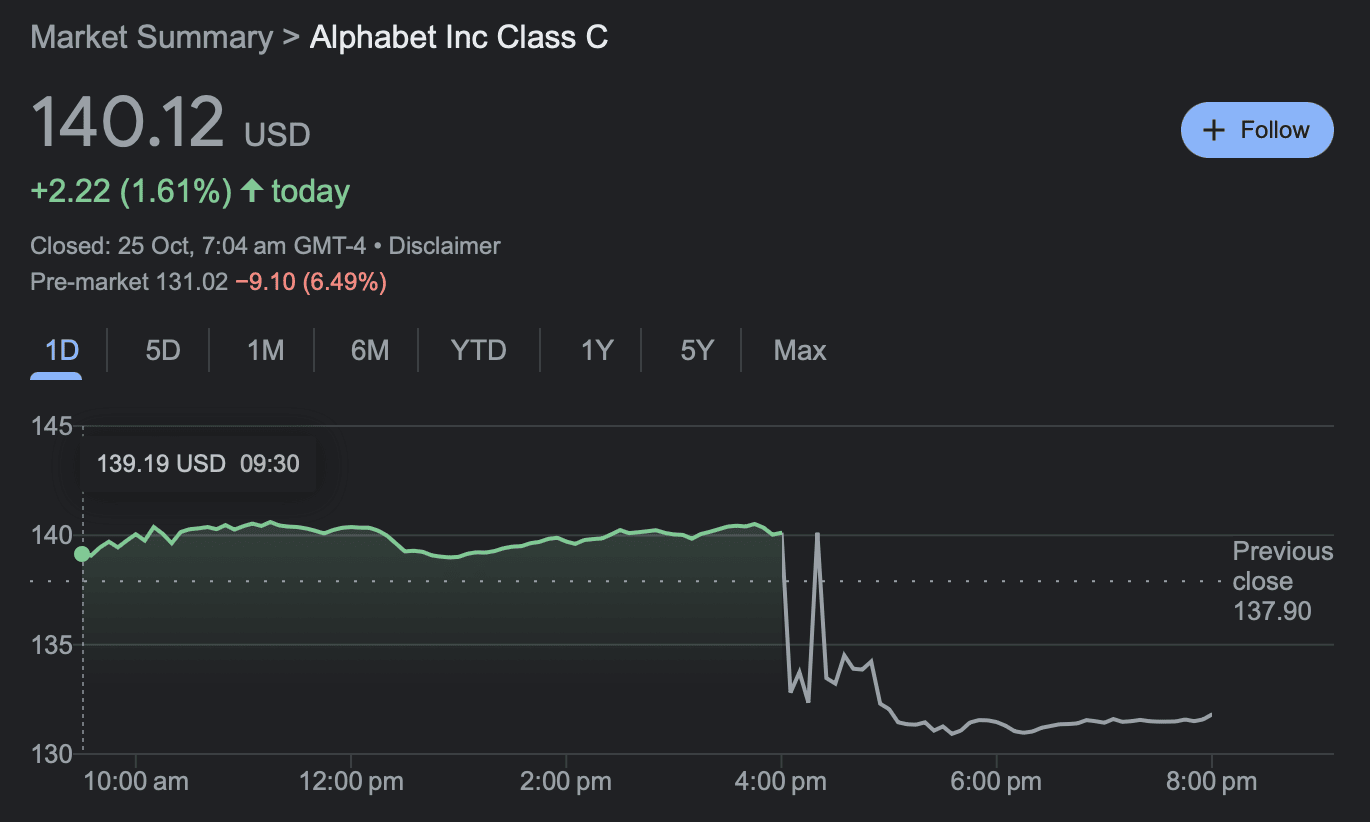 Despite the cloud revenue miss, Alphabet's advertising business reported $59.7 billion in revenue, surpassing consensus estimates of $58.9 billion.
Google and industry rival Meta are closely watched as indicators for the digital advertising industry. Negative performance by these giants can significantly impact shares of other digital advertising firms.
Google has been investing heavily in generative AI technology to catch up with competitors like Microsoft and strengthen its position as a leader in the AI field.
Google introduced various generative AI products for consumers and businesses to regain its status as a prominent AI player in Silicon Valley.
Additionally, Google aims to expand its share of the cloud computing market, where it currently ranks third behind competitors Amazon and Microsoft.
Alphabet's earnings announcement comes amid ongoing antitrust lawsuits against the company. The Department of Justice has filed two suits, accusing Google of abusing its power and distorting competition in online search and digital advertising markets.
The European Commission is also pursuing efforts to break up Google's ad business, and Japan's antitrust watchdog is investigating potential bias in favor of Google's search products by smartphone makers.
Overall, while Alphabet's earnings report had its ups and downs, the company continues to navigate various challenges in the tech and advertising industries.
(Source: Yahoo Finance)