Microsoft (MSFT) released its Q3 earnings report, surpassing market expectations for both revenue and earnings per share.
The tech giant reported $56.5 billion in revenue for the quarter, exceeding consensus estimates of $54.5 billion. Adjusted earnings per share (EPS) reached $2.99, well above the anticipated $2.66 per share.
As a result, Microsoft stock jumps 3.6% during pre-market trading because of this strong performance.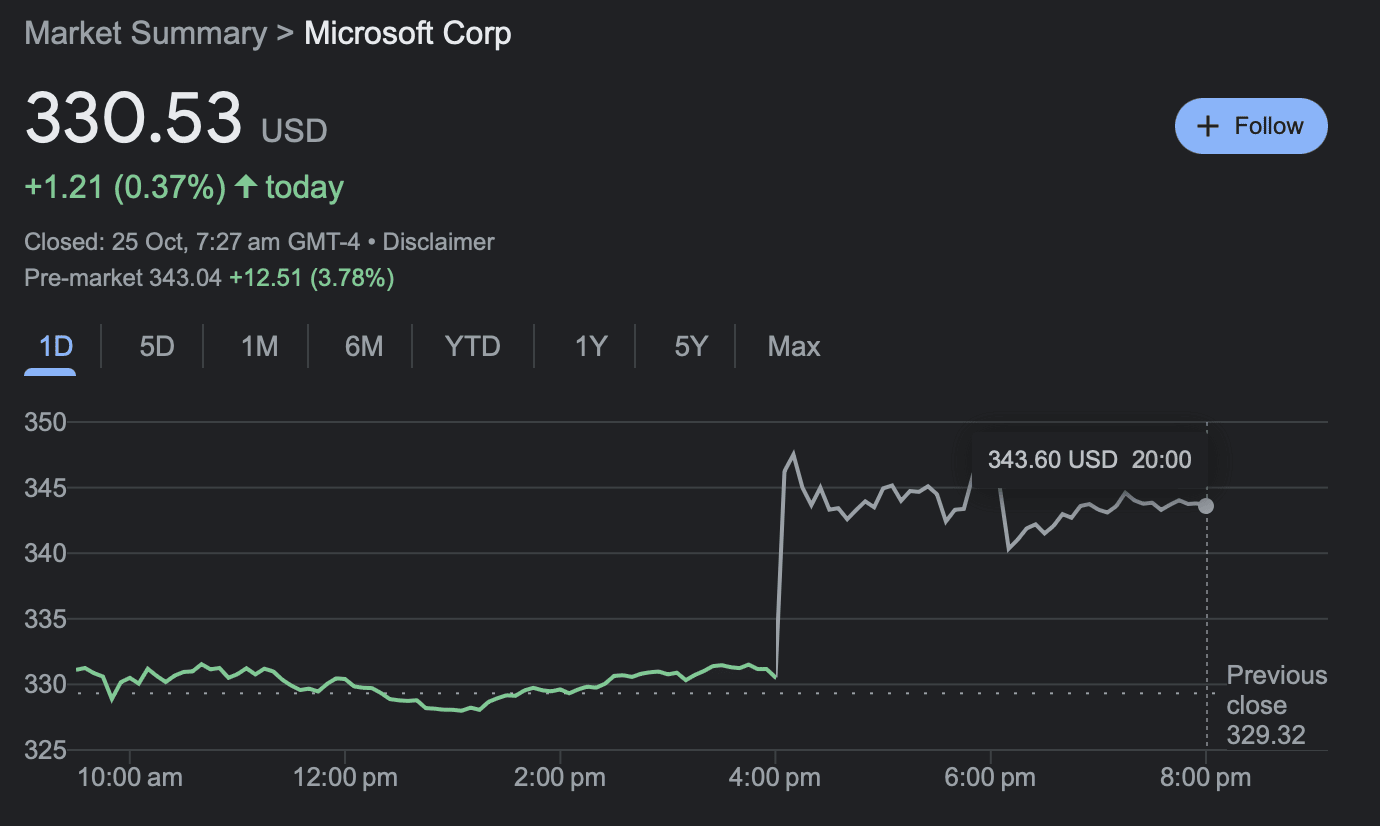 The company attributed this success to higher-than-expected AI consumption, particularly in its cloud business.
Microsoft's Intelligent Cloud segment, which includes Azure, generated $24.3 billion in revenue, surpassing Wall Street's projection of $23.6 billion.
Azure and other cloud services revenue experienced a remarkable 29% growth, beating expectations of 27%.
Microsoft CEO Satya Nadella emphasized the company's commitment to infusing AI across its products and services to enhance productivity for customers.
The tech giant has invested heavily in AI, including a $10 billion commitment to ChatGPT developer OpenAI and the introduction of generative AI-powered Copilot apps across its ecosystem.
These investments are part of Microsoft's strategy to drive new growth by capitalizing on the growing demand for AI-powered solutions.
In addition to its focus on AI, the company recently completed its $69-billion acquisition of Activision Blizzard, solidifying its position as one of the world's largest video game companies.
While this acquisition has expanded Microsoft's presence in the gaming industry, it also faces scrutiny from regulators, including the possibility of antitrust challenges from the Federal Trade Commission.
Microsoft continues to make strides in the tech industry, leveraging AI and strategic acquisitions to drive innovation and growth.
(Source: Yahoo Finance)